Sponsor a Koala
Vincent Christian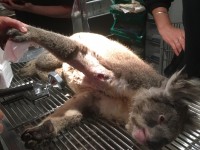 Vinnie, as he has been nicknamed, was found behind a St. Vincent's donation bin at a Church in Meeniyan. He is a young adult male Koala with an infected fly-blown wound to his shoulder – the result of being attacked by a dog, with the wound puncture piercing right through his shoulder.  After much intensive care he is healing well with our lovely Vet Amanda (Latrobe Vet Group) regularly visiting the shelter to monitor and surgically clean Vinnie's wound.
Mandy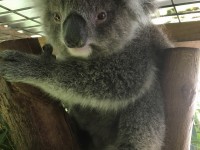 Mandy: is a female Joey from Flynn.  She was orphaned when her mother was attacked by a cow and she sustained fatal head injuries.
Mandy has taken well to the specialised Koala Joey formula and is doing well in care.
Miley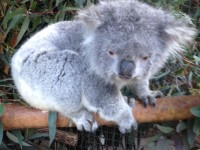 Miley is now 7 years old, with several health issues, the result of genetic inbreeding.  Miley is under observation to see if she can improve her strength and fight/flight response. In the past 2 years she has been free from any respiratory illness -something she had previously been prone to.
She happily spends her time eating, doing her climbing 'aerobics' and snuggling with the new joeys. Miley is very protective of the other koalas in care and helps them to settle in with her calm demeanour.  She is from Sandy Point in South Gippsland.  It was a once chlamydia-free area that had an estimated population of 2ooo koalas, now there is merely a handful left – resulting in a limited breeding gene pool.
Sponsor a Koala here
The Koalas that are available for a sponsorship are real wild Koalas that have come into the care of the Southern Ash Wildlife Shelter for various reasons.
You will receive a sponsorship package including a beautiful photo of your chosen Koala, a Certificate of Sponsorship, a profile of the Koala that you have chosen, an information brochure on the shelter and also a copy of the latest newsletter.  This money will assist to cover costs for the rehabilitation of the Koala.  This can run into hundreds of dollars.
Donations over $2 are tax deductible.
The cost of a sponsorship is $40AUD per year.
Your sponsorship will help us rehabilitate sick or injured Koalas with the end goal of releasing the animal back to the wild, preferably where the Koala was located. Your sponsorship will also assist us in the collection of information relating to habitat, disease, nutrition and behaviour and to provide education material to members of the public to create awareness about these iconic creatures.
Please Note:
Some events are out of our control, despite our very best efforts to rehabilitate all Koalas admitted, in some cases this is not
possible and some do not survive. In the event this happens to your Koala we will notify you when your sponsorship comes up for renewal. You can then select another Koala if you wish to renew your sponsorship.
As all of our Koalas are in care and not for display purposes, you will not be able to visit your sponsored koala.
We will not disclose your personal information to third parties.
No refunds for change of mind or if your Koala does not survive as the money would have already been used for the care of your Koala.